Surgeon Aids Poor In Ecuador
Mission trip sparked decade of clinic work
Michael Schroeder | The Journal Gazette. Story originally published on Sunday, August 17, 2008 Used with permission.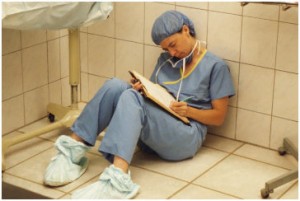 Her energy depleted, Dr. Jane Weaver, then a surgical resident at the University of Louisville, walked into the cancer center to undergo radiation. She was the patient. Then she saw a young woman and the woman's mother, one of Weaver's patients. Weaver mustered up all her reserves, assumed the demeanor of a re-energized doctor, and went to comfort her patient. It didn't register with the young woman and her mother until later that the surgeon was there for treatment, too.
More than 10 cancer-free years later, Weaver's brother, Steve, who had accompanied his exhausted sister to treatment, recalls the story as a lasting illustration of her modus operandi. Her focus on others before self, which she attributes to her deep-seated Christian faith, led her into the mission field shortly thereafter.
For the better part of a decade, Weaver, now 41, has been in Ecuador operating on some of the country's poorest patients. What started as a planned one-year mission has dovetailed into her life's work. She passed on a potential life of luxury operating in the U.S., but the product of a middle-class upbringing doesn't complain much about lack of amenities. She says she's still able to live comfortably in Ecuador. Her brother, who founded the Fort Wayne-based Latin American Missions Board, or LAMB, to support her mission work, says it's a testament to the deep concern she has for the well-being of others.
Weaver directs a Christian clinic in San Lorenzo, a hot, dirty, dangerous town in the northwest corner of the country where the Pacific Ocean and the Colombian border collide. It's a windy, mountainous, five-hour drive from the capital of Quito, dropping almost two miles in elevation to the coastal town.
Revolutionary Armed Forces of Colombia, or FARC, known for drug trafficking, kidnapping and using violent means to advance political ends, spill over the border from Colombia into San Lorenzo, along with other paramilitaries and drug traffickers. Hit men, some who will kill for less than $50, are perceived to have more power than the local police and murders are commonplace in the town, which has about as many residents as Marion or Goshen.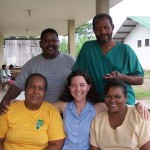 In the midst of it all, Weaver and a handful of other clinical staffers, including a general practitioner and a dentist, see patients from Ecuador and Columbia, many traveling long distances to reach the clinic. Weaver says she's able to move about freely, caring for patients often plagued by advanced medical problems. Most are "normal problems that just get way out of hand" she says. Women with baseball-size breast cancer tumors, children with long-untreated fractures that have caused deformity, burns that limit motion because they haven't healed properly — many people in the poorer town of San Lorenzo and outlying areas just learn to live with medical problems.
One patient came to the clinic with an enlarged thyroid gland. It was so large that the woman couldn't turn her head. She was resigned to living with it, having been told previously that there was no cure. She finally found relief under Weaver's skilled hand. The surgery removed a 2-pound goiter. She's been sending patients to the clinic ever since.
San Lorenzo has a government-run hospital but Weaver and Damarys Reyes, the administrative director of Clínica San Lorenzo, say care there is often inconsistent and unpredictable. "Sometimes you can get excellent care, and sometimes you can get horrible care" said Weaver, who worked a year in a governmental hospital to get her Ecuadorian medical license.
One day X-rays will be offered, and the next there's no X-ray technician to do them. More and more, the hospital sends patients it can't manage to the clinic for care, clinic officials say.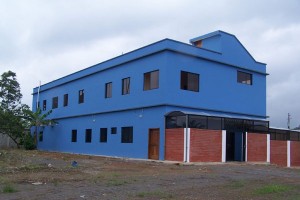 The clinic added an anesthesia machine in 2004, allowing Weaver to offer a wider range of operations from gall bladder surgery to pediatric surgeries. In 2007, it finished construction on a bright blue, two-story addition to the main clinic building which includes a larger operating room, a monitored recovery room, more exam rooms and an area for sterilization and laundry. The new building was first used in May.
In general, public hospitals in Ecuador are part do-it-yourself. Rather than one physician referring a patient to another, a patient advocate — oftentimes a family member — is responsible for taking a blood sample extracted by a medical professional to the lab or buying sutures, gloves and other supplies used at the hospital.
Clínica San Lorenzo offers surgical, general medical, eye and dental care in a manner consistent with private medical operations but at a lower cost. A doctor's visit costs $3. A hernia operation is $125, a hysterectomy is $200, and a gall bladder operation costs $175. These are low prices, even by Ecuadorian economic standards. Patients pay on a sliding scale based on income, with discounts given as needed, though almost everyone pays something. Weaver believes in patients taking responsibility for their care.
Donations help make up deficits. Fundacion Cordero, or the Lamb Foundation, operates the clinic with financial support from LAMB –; the entity Steve Weaver founded. The clinic partners with a local church, La Roca (The Rock) ministering to patients and people in the community.
Weaver says the clinic staff tries to make patients feel at ease, providing vital treatment to patients and talking about Jesus if the opportunity arises. Sometimes they talk about God with patients, and sometimes they don't. The sure-handed surgeon is known for being pleasant, respectful, modest and easy to get along with by patients and staff alike.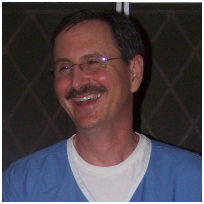 "She's really a pretty remarkable woman." says Dr. Geoff Randolph, a reconstructive surgeon with Summit Plastic Surgery group, who went on a mission trip to the clinic this spring. Randolph first got to know Weaver over the operating table in Fort Wayne a couple years ago when the two performed surgery on a patient who had been in a bad motor vehicle accident.
Randolph goes on short-term medical mission trips every year or so to places such as China, Vietnam and the Dominican Republic. Although he finds them fulfilling, he admits working in a tense area like San Lorenzo can be a strain. That puts Weaver's work in perspective for Randolph. He owes her resilience to her strength, both in mind and body, and fortitude.
Weaver is quick to shrug off talk of tough living. Despite some violence and instability in the area, she says she's learned to cope and feels safe in San Lorenzo. She seems to thrive, despite the challenges.
On one occasion when the septic tank backed up, Weaver got her arm deep in sewage water, pitching in as part of a group effort to unclog the system. The group eventually discovered the source of the problem was a tennis ball. Weaver occasionally gets the generator going when power goes out, something that happens from time to time, but she says one of the clinic's male employees usually starts the generator. She also made decisions related to new construction at the clinic and currently has to deal with water supply problems related to a new well and its pump.
But it's serving patients where she really shines, colleagues, friends and family say. "She's warm, she's gentle, she's kind," Randolph said. Fluent in Spanish, she has a knack for building relationships, he says. That comes in handy as she seeks to recruit surgeons, like Randolph, and anesthesiologists to come to her clinic and help out.
Weaver spends about a week each month in Quito, where she buys health care supplies and takes care of other odds and ends. She keeps an apartment in the city which doubles as clinic administrative director Reyes' office.
Weaver usually returns to Fort Wayne once or twice a year for no more than three weeks at a time (any longer would strain operations at Clínica San Lorenzo) and tries to time her visits with Indiana Surgical Specialists. She does work for the surgeons group when she's in town. Along with paying her for the work, the group provides some financial support throughout the year. Surgeons of different specialties periodically also make short-term mission trips to the clinic Weaver directs. "They're just extremely supportive," Weaver said of the surgical group, sitting in her parent's home.
The most recent visit with family ended like those before it, with her returning to her work in San Lorenzo. Apart from visits stateside, she sees herself there in perpetuity. San Lorenzo is where, she says more than once, she's called to be.