Simply stated, the healthcare needs in San Lorenzo are not being met. Many of the problems being treated at the clinic are disease processes that have gone untreated for many years.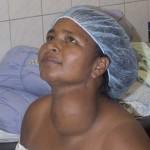 Examples include common medical problems such as hypertension and diabetes, and surgical disease such as thyroid goiters — some of which have been present for more than 20 years.
Other examples include patients with large breast cancers that have been present for many years, and untreated fractures in children that may have left obvious bone deformities. The list goes on and on.
The patients who come to the Clinic cannot afford to seek more advanced care outside of San Lorenzo. If they canot find a solution to their problem within San Lorenzo, they simply learn to live with it.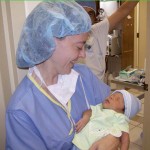 The hospital in San Lorenzo is not able to offer  high level of care. More and more frequently, the hospital sends patients they canot manage to the Clinic.
Another unmet need is the care of pregnant women. Most women in San Lorenzo continue to give birth at home. The Clinic staff is very interested in beginning a program for pregnant women and providing prenatal care and education. Expecant mothers have already inquired at the Clinic for this type of program.
The geographic location of the Clinic has provided another difficult problem. San Lorenzo is becoming the home to more and more displaced Colombians.
Problems stemming from the drug trade have driven many people from their homes in Colombia, and they are crossing the border in increasing numbers. Most arrive with little or nothing. Each week, the number of Colombian patients seen in the Clinic grows.
Next >>> Growth of the Clinic